http://www.soylicious.com/bbrown0603/
Have you heard of Soylcious
Soy Candles
? Our premium soy bean wax candles and tart chunks are made from two types of American grown soybeans, with natural botanical oils added to give them vibrant colors and a creamy texture. Along with our
soy soap, room sprays, and electric tart melters
you are sure to find something to
Satisfy your Senses!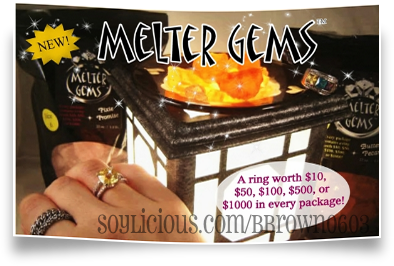 - NEW Melter Gems - ($16.95)
ALL NEW Melter Gems!!!! A ring in every package! The best thing is you get to order the size ring you need!
Rings are worth $10 - $50 - $100 - $500 or even $1000

Melter Gems are crystals that have been colored and infused with high quality fragrance oil. You place about 1/4 cup in a Glazed or Glass top melter/warmer. They release fragrance much faster than waiting for wax to melt. Within just minutes your entire home will be filled with your favorite fragrance.Available in sixteen (16) fragrances! Available in sixteen (16) fragrances!
Almond Cherry,Buttery Pecan,Cucumber Melon,Gardenia Blossom,Hot Apple Pie,Lavender,Moon Petals,Ocean Breeze,Pina Colada,Pineapple Mango,Pixie Promise,Sparkling Citrus,Sugar Kisses,Sunwashed Linen,Totally Irresistible,Vanilla Extract. [
SHOP NOW]
September has Autumn Spender!!! SEPTEMBER ONLY!
WIN IT!: I am giving one of my readers the chance to win Melter Gems!
Here is how you do it, just enter with the Rafflecopter below. WINNER MUST BE IN US only. 1 entry per household. The first 4 entries must be completed to qualify to win.
Giveaway ends 10/1
( GIVEAWAY CLOSED Form has been removed)